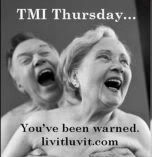 So, here we go, my second ever attempt at grossing you out with Too Much Information, and it's inspired by our very fast approaching trip to Chicago. See, the thing is that we have cats. And the thing about our cats is that they were raised by dog lovers, who don't know about how to just ignore the cats and occasionally see if they want food or whatever, and instead gave them all kinds of overbearing attention and as a result gave them cat schizophrenia and made them more needy than most dogs.
And speaking of dogs, we used to have the absolute most amazing scruffy trash dog that ever lived and deserved all of our overbearing attention because she was 10 years old when we found her on the street covered in feces and skunk and with mats that extended over her eyes and down to the ground and when we got her shaved all she wanted in the world was to lie on my lap and NOT get antiseptic in her wounds.
Anyway, needless to say she was loved by all, including the cats. And when after four years of toothless happiness she passed away at the approximate age of 703, the cats were not happy. Of course, I didn't notice or care too much because I was not happy, and that's what matters. At least that's what mattered until a few weeks later I went to clean out the running closet and found every single pair of running shoes filled with urine and poop. Since the dog had not been the most well house trained adorable mutt ever, I started to cry because I thought I was cleaning up the last remaining evidence and I kind of wanted to put the poop in a scrapbook or something.
Until then a few months after that I went to move the ottoman in front of the chair we never use, and found that that was ALSO soaked in urine and covered in poop. Which, let me tell you, does great things for your wood floor. That's when we realized that our schizophrenic cats had decided to take out their grief on any dark corner of the apartment they could find, and ever since then if we leave them alone for more than two days, they find some new and awesome place to hide poop, like in a blanket on the couch so that when I lay down to watch tv I pull up over me an entire covering of cat turds.
So, here's hoping they've adjusted to Nashville and spend this weekend watching the neighbor cat out the back window and not pooping in some closet we forgot we had.
---
http://irregulargiggling.blogspot.com